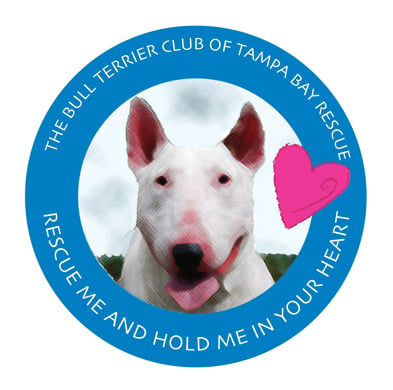 The Bull Terrier Club of
Tampa Bay Rescue Committee
Adoption Application


Before you send in your application to adopt a Rescue Bull Terrier, make sure you've thought about what having this dog - or any pet - means. And talk it over with your family. Any dog needs nourishing food, clean water, regular exercise, veterinary exams (at least once a year) and lots of love and care. Rescue dogs in particular, need training and attention. A dog may be your companion for more than a dozen years. It's a lifetime commitment. Are you ready?

If you are interested in adopting one of our Bull Terriers, please fill out this online form and click the submit button. This adoption application MUST be filled out in its ENTIRETY. We understand that this is a detailed application. All information provided in the form will be kept confidential. You MUST be 21 years of age or older to fill out this form and be considered as an applicant. Children DO NOT fill out this application on behalf of your parents, instead have your parents fill out the application themselves.

The Bull Terrier Club of Tampa Bay Rescue Committee is made up entirely ofgenerous volunteers. These people tend to the many needs of this organization in their spare time outside the commitments of their personal lives (jobs, families, dogs). Often our Rescue Coordinators are the very same people who not only review, interview and approve homes, they are also tend to the needs of the rescue dogs themselves, such as veterinary care, fostering and transportation.

Please expect to wait up to 3 days or more for a reply to correspondence or aconfirmation of your application. Our volunteers never intentionally want anyone to fall between the cracks. Please understand that we can sometimes get overwhelmed and you may need to follow up. We appreciate your patience and understanding.

NOTE: The adoption rate is usually between $300.00 to $600.00 US Dollars.
Thank you for your interest in adopting a rescue dog.

Jan O'Nan
Secretary
Bull Terrier Club of Tampa Bay

After filling the details click on the SUBMIT button.

We reserve the right to refuse any application. Thank you for taking the time to fill out our application. We do really appreciate people who consider a rescue dog in need. We will contact you as soon as possible. If the dog you want is not available, we may contact you about other rescues that are available.