"My sunshine doesn't come from the skies,
It comes from the love in my dog's eyes."
Unknown Poet

Ch Rocky Top's Sundance Kid, known to his friends as "Rufus"



Owned and loved by Tom & Barb Bishop. Co-owned by Bill & Becky Poole. Born 4/8/2000 and crossed the Rainbow Bridge 8/8/2012 in the arms of his loving Mom and Dad.




Rufus was the first colored bull terrier to win Best in Show at the National Dog Show in 2005, Rufus was the first Colored Bull Terrier to win Best in show at Westminster. His record includes 35 all-breed Best in Shows, 128 Best in Group firsts, and the BTCA National Specialty on 3 occasions. Rufus was the most successful Colored Bull Terrier Show Dog of all time. Upon his retirement from the show ring, Rufus went on to charm everybody he met as a Therapy Dog and won the AKC ACE award for his work in this area. He will be sorely missed by everybody in the world wide bull terrier community.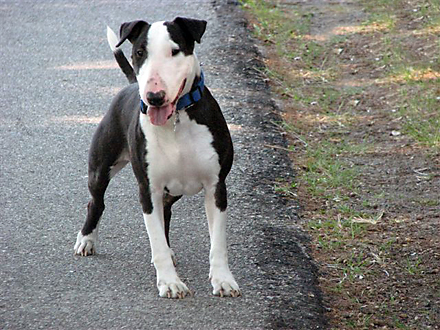 IVY
The Costa family adopted Fritzie, now known as Kobe. Julie Costa remembers Ivy, their previous dog, who was a rescue and recently passed away, "I've been thinking a lot about and missing Ivy this morning. She had a very hard life filled with illness and abandonment. She was bred, I don't know how many times, and then spent another year-and-a-half in a Tampa vet's office. When I picked her up I knew she had Lyme Disease and could possibly have other things. When we met her she came right out of the back office, ran to my husband and it was love at first sight. A few months later she was diagnosed with lymphoma and given a couple months to live. Unbelievably she lived for more than a year after that. She left us on June 29th and we are never going to forget her. It was great to have her as our first bull terrier."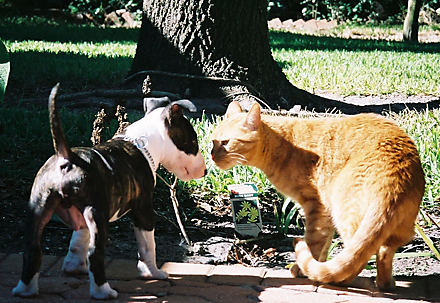 JASPER (and Henry)
Jim and Linda Neuman, write, "Our love affair with bull terriers continued with Jumpin' Jasper Flash, our third Bull Terrier that started his life with us as a puppy. During his short life span of 16 months he lived up to his full name. Jasper was always on the go and ready to play, especially with his beloved tennis ball. Jasper was very smart and eager to learn about everything. He was our first BT that we raised with a cat, but Jasper and his "brother" Henry were buddies. It was so surprising and disheartening that Jasper became very ill so quickly and was gone from this earth much too soon in February of 2009. Although his last week of life was spent in an intensive care unit, every day when we visited Jasper he still aimed to please us and was stoic to the end. Jasper brought much joy to all who knew him. He may be gone from our touch, but never from our hearts!"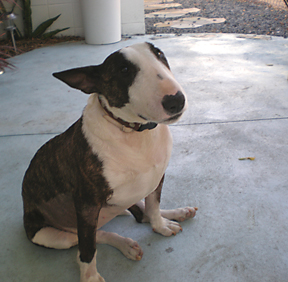 ZANSI
"Zansi" means the wind off the sea in the Zulu language, and in her short life she did, in fact, experience a whirlwind of activity and adventure. Her owner, Jennifer O'Brien Pheiffer writes, "She was diagnosed with congenital kidney disease at 7 months of age and I faced the sobering reality that she was afflicted with a grim prognosis at a very young age. She underwent dialysis twice a week for approximately six weeks, which had her stabilized and feeling great until the surgery. On September 4, 2008, Zansi underwent kidney surgery at Penn in Philadelphia. The new kidney function kicked in immediately. She was miraculously up and on her feet the next day, with normal kidney function. Sadly, she passed away suddenly, on August 21. 2009 from apparent GI bleeding. From my perspective, Zansi lost the battle, but won the war. Regarding my decisions for her medical treatment, I would choose them again in a heartbeat. If I gave her extra time, a good quality of life, and the opportunity for us to learn from her condition, I have merely done my job. I am hoping her legacy will be to inspire to other dog owners dealing with the cruel and deadly repercussions of kidney disease."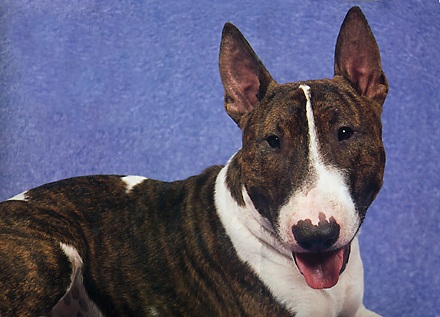 ETHAN
Ethan (CH. JTM'sLittleBigMan) was Jan and Michael O'Nan's third Bull Terrier. He was a familiar sight cruising the waters off Sarasota in their boat, and playing on the sandbars at low tide. Ethan was a singleton pup, and was very attached to Jan. "He was always kind of a weirdo," says Jan, "but he was my baby!" Jan also remembers how good he was with the their tortoises. Jan and Michael have several African Spur Thigh Tortoises and a Galapagos Tortoise named Darwin! Photos of Ethan by Paulette Braun were used on the front cover of Dog Fancy in September 1999 and his photo was also featured as the centerfold! Ethan passed away in 2006 at the age of 11, but he will be remembered with love.